Provider Partners is the bimonthly newsletter for Inclusa providers.
Current Issue – May 2022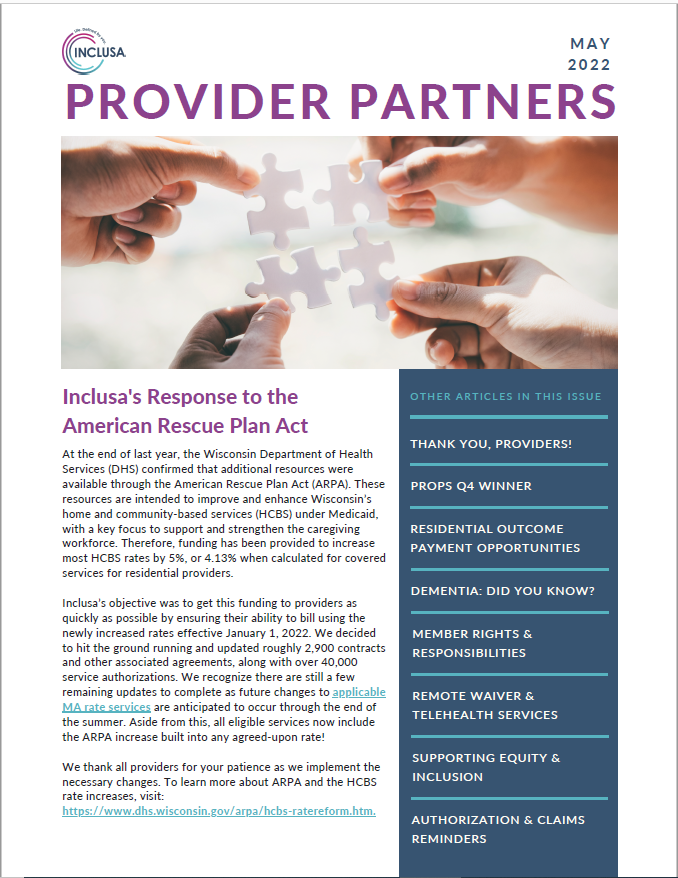 Click Image To View
Contents Include:
Additional Payment Opportunities:

Outcome Payments Available for Residential Providers
Payments Available for Multiple Provider Types

Authorization & Claims Reminders:

Submitting Medicare C/Advantage Plans & Other COB Provider Insurance Claims to WPS
Confirming Authorizations on Inclusa's Provider Portal
COBA Crossover Claims

Dementia: Did You Know? What Would You Want Others to Know?
Inclusa's Response to the American Rescue Plan Act
Member Rights & Responsibilities
PROPS Q4 2021 Winner
Remote Waiver & Telehealth Services: During & After the Public Health Emergency
Residential Outcome Payments:2021 Highlights
Residential Outcome Payments: 2022 Announcement
Supporting Equity & Inclusion
Thank You, Providers!
For questions related to the Provider Partners newsletter, contact us at ProviderPartners@Inclusa.org